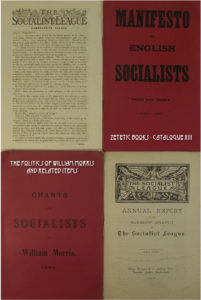 Catalogue XIII – The Politics of William Morris and Related Items is now available. Ninety items, with some rare Morris forgeries and sophistications by Buxton Forman, including items known in only a single copy to LeMire.
The story of Forman and Wise is well known within book circles, with the classic expose, An Enquiry into the Nature of Certain Nineteenth Century Pamphlets  by Carter and Pollard, followed (much) later by Barker and Collins' Sequel to an Enquiry and then Collins' biography of the two, The Two Forgers.
One example of a Forman sophistication is item 45 in the above catalogue, Morris' Chants for Socialists. This is a Buxton Forman wrapper forgery.
Forman states that copies "are occasionally found in a red wrapper … but they were not originally issued in wrappers". Quaritch catalogue 926, 1973, item 88, offered two copies of this pamphlet (one with the forged wrapper and one without), and a three page autograph note by Buxton Forman explaining the history of the wrappers; the wrapper and this note are reproduced in Collins' The Two Forgers (plates 37 and 38). Barker and Collins state that "no copies thus bound have been located except one of the two sold in the last Forman sale at Sotheby's, 12 April 1972, with the note quoted above" (Barker and Collins, A Sequel to An Inquiry, page 204) [and subsequently appearing in the above Quaritch catalogue]
The same two copies and Forman's note (now owned by John Collins) were sold at the Schimmel Forgery Collection sale at Bonhams on the 23rd May, 2012 (Lot 208, selling for £437).
Barker and Collins conclude that this is "a chimaera, with a false wrapper, intended to 'improve' a genuine pamphlet"
So a very uncommon pamphlet, probably only the second known copy